Product Description
The Geotagger N3 is Solmeta 5 stars rate GPS product, with state-of-the-art GPS technology, elegant design and advanced features. It was made for Nikon DSLR cameras. It records latitude, longitude, altitude, heading and Coordinated Universal Time (UTC) to your photographs. The GPS information will be directly embedded into the EXIF of pictures taken by compatible Nikon cameras. The Geotagger N3 can be used with: Nikon D5, D850, D500, D810A, D810, D800, D800E, D4, D4S, D3-series, D700, D300-series, D2Xs, D2X, D2HS, D200, D90, Df, D750, D610, D600, D7500, D7200, D7100, D7000, D5600, D5500, D5300, D5200, D5000, D3300, D3200, D3100 and COOLPIX P7800, P7700, CoolPix A.

Highlights

Except provide basic GPS info to image as Nikon GP-1, Geotagger N3 ihas more features.
· Fixed spiral connection cable
The big difference with the Geotagger N3 is the fixed connection cable design, made specifically for one type of connection port. The spiral cable is soft and can be extended.
· 3-aixs Digital Compass
An advantage of this GPS receiver is its built in 3-axis electronic compass. The difference between a 3- axis compass and a normal compass is its accuracy. Other compsses only provide accurate data when the unit is placed horizontally, while for the N3, with 3-axis compass, it's able to record accurate data even whn it is tilted to various angles.
Notes: Nikon D200 doesn't support heading record.
· Advanced chipset of N3
Another feature of the Geotagger N3 is the most advanced Chipset MTK MT3339, which has 66 parallel searching and 22 tracking channels for a fast acquisition and reacquisition. Despite the more powerful chipset, the Geotagger N3 consumes less than 60mA from the camera and can also be automatically powered up and down along with the Nikon camera exposure meter, making it one of the most power-efficient GPS receiver for Nikon cameras.
· Indoor fixed function
When you go indoors or to a place where GPS signals are blocked, the Geotagger N3 will automatically reuse the last known position for tagging the subsequent images.
· Unique "wake up and sleepping" working mode
The Geotagger N3 is powered from the Nikon camera directly. A special work mode is applied for low power consumption and maximum latest GPS data reception. Even when the camera is off, this convenient working mode enables "camera off and GPS on ", which allows the user faster access to new GPS data on start-up.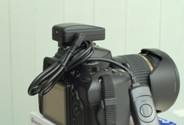 · Support remote controller
The supplied 2.5 jack remote pass-through allows you to use the remote trigger when the Nikon camera remote port is used by Geotagger N3.

Specification
Chipset: MTK MT3339
Channels: 66 parallel searching, 22 Tracking channels
Tracking Sensitivity: -165dBm
Data format : NMEA 0183 ASCII
3 Axis electronic compass: Azimuth Range 0-359°
Battery: <60mA(normal working mode)
<8mA(sleeping mode)
Dimension (L x W x H): 56 mm x 36mm x 19mm
Weight: 50g (1.8 oz.)

Two ways connection
The Geotagger N3 can be connected to Nikon camera in two ways:
· Mounted on the camera hot shoe.
· Attached to the camera strap with the supplied strap fastner.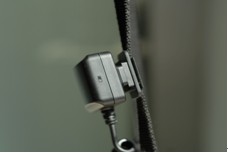 User Manual
For more details, please download Solmeta Geotagger N3 User manual.